Editor's note: Posts from the Community is the place for community announcements and event postings. If you have a community-oriented event you feel our readers would be interested in, please submit here.
Hunger Task Force will accept applications at four drive-thru events, online and by mail-in for the annual distribution of seniors farmers market vouchers. The second in-person drive-thru event is Thursday, July 14 at Abundant Faith Church of Integrity starting at 9:00 a.m.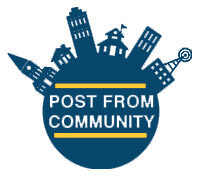 The Senior Farmers' Market Voucher Program provides low-income seniors with $25 in vouchers that can be used to purchase eligible foods at farmers' markets, roadside stands and community-supported agriculture programs. Seniors aged 60 and older (55 years or older for American Indians) who are Milwaukee County residents and meet the income eligibility requirements are encouraged to attend one of the drive-thru events or fill out the application online and have the voucher mailed to their home.
"The senior farmers market vouchers is a program seniors have come to expect in the summer months because it is so exciting to have support buying fresh, healthy, in-season produce at your local farmers market," said Sherrie Tussler, Executive Director of Hunger Task Force. "We hope to help a record amount of seniors this year as food and gas prices continue to rise, making it difficult for seniors to afford healthy food options on a fixed income."
Hunger Task Force is the administrator of the Senior Farmers' Market Nutrition Program for Milwaukee County and has nearly 4,000 vouchers available to distribute. This year's senior farmers market vouchers are available on a first-come, first-served basis while supplies last and one set of vouchers is available per household.
Seniors interested in the Senior Farmers' Market Voucher Program can print out the online application at www.HungerTaskForce.org/seniors and bring a government-issued ID to one of the following locations:
Date
Time
Location
Thursday, July 14
9:00 a.m – Noon
Abundant Faith Church of Integrity (ACFI)

7830 W. Good Hope Road

Tuesday, July 19
9:00 a.m – Noon
Wilson Park Senior Center

2601 W. Howard Avenue

Tuesday, August 2
9:00 a.m – Noon
Washington Park Senior Center

4420 W. Vliet Street
Hunger Task Force is Milwaukee's Free & Local food bank and Wisconsin's leading anti-hunger organization. The organization's mission is to feed people in need today and end future hunger. Hunger Task Force operates a food bank that provides healthy food absolutely free of charge across Wisconsin. As advocates, Hunger Task Force works to end hunger through strong public policy work, legislative analysis, education and community organizing. For more information, visit HungerTaskForce.org.
# # #