Editor's note: Posts from the Community is the place for community announcements and event postings. If you have a community-oriented event you feel our readers would be interested in, please submit here.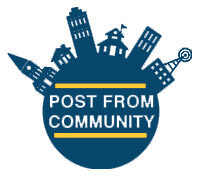 Milwaukee Chamber Theatre (MCT) announced this morning that it has reached the first benchmark in its ongoing Sustainability Campaign fundraising effort, achieving more than $1.5M in pledges for new and increased support for this and the next two fiscal years. As a result, MCT will proceed with its 23/24 season, to be announced in late March or early April when the renewal period for season subscribers opens.
"We are full of gratitude and joy in announcing Milwaukee Chamber Theatre has surpassed our first phase fundraising goal yesterday with commitments of $1,514,428," said MCT Board of Trustees President Marina Krejci. "More than seven hundred individual donors stepped forward to keep MCT going and affirmed the value of a theater committed to the local, and ratified our belief in the vitality that MCT breathes into the greater Milwaukee community."
Announced on February 14th by MCT Artistic Director Brent Hazelton in the face of a projected 35% FY23 operating deficit, MCT's Sustainability Campaign is intended to create a stable financial foundation for the company over the next three seasons while it restructures the income-generating side of its operations and builds audience as it continues to weather the lingering impacts of the pandemic.
Said Hazelton: "In so many ways, the pandemic is behind us. But those of us in the performing arts are still feeling its impacts deeply, as studies project audiences won't return fully to pre-pandemic levels until later in 2024. Companies without any operating reserves to bridge that gap, like MCT, need time and space to reinvent and adapt to the new marketplace—and for us, creating that space sustainably involved reaching out for help to our community. The amazing response in such an incredibly short period of time is a tremendous positive referendum on the way we've been pursuing mission for the last three years, and we're grateful for the opportunity this creates for us to do the hard work that lies ahead to create a truly sustainable institution."
Founded in 1975 by Montgomery Davis and Ruth Schudson and guided until 2020 by Michael Wright and Kirsten Finn, MCT has over the last three seasons under Hazelton's leadership produced some of Milwaukee's most celebrated theater events, including the recent WHO'S AFRAID OF VIRGINIA WOOLF?, MISERY, WHERE DID WE SIT ON THE BUS?, INDECENT, and THE ISLAND, among others.
Other accomplishments during that time include: achieving three-year averages of at least 50% of all season artists identifying as either Black, Indigenous, and People of Color or female; founding the Milwaukee Black Theater Festival; generating during the first year of the pandemic a level of income and health insurance weeks for artists on par with national leaders; compensating all artists and staff above the Milwaukee County Living Wage Standard; spending 90% of all expense dollars in Milwaukee; and prioritizing safety resulting in no artist COVID infections since becoming Wisconsin's first company to reconvene for in-person work on Actors' Equity Association contracts in January 2021.
"And we could not have done this without the generous challenge match from Caran and Joel Quadracci, Donna and Donald Baumgartner, and the Herzfeld Foundation, each a visionary philanthropist committed to keeping Milwaukee's arts and culture ecology rich and vibrant," added Krejci.
MCT's next production, the world premiere of HOOPS by Eliana Pipes with original music by Milwaukee's own B~Free adapted from The HOOPS Project portrait series by Milwaukee multidisciplinary artist Nicole Acosta, begins performances Friday, March 10 and runs through Sunday, April 2. Tickets available at www.milwaukeechambertheatre.org or by phone at 414.291.7800.
ABOUT MILWAUKEE CHAMBER THEATRE
Milwaukee Chamber Theatre (MCT) partners with other arts organizations, community-based organizations, and universities to produce thought-provoking productions and innovative outreach programs on an intimate, human scale. As a leader in developing Milwaukee and Wisconsin's theater community, MCT provides regular employment and a stable artistic home to local theatre professionals through a five-play subscription season, the Young Playwrights Festival (YPF), and the Montgomery Davis Play Development Series (MDPDS). MCT performs at the Broadway Theatre Center in Milwaukee's Historic Third Ward and is a proud Member Group of the United Performing Arts Fund.