Editor's note: Posts from the Community is the place for community announcements and event postings. If you have a community-oriented event you feel our readers would be interested in, please submit here.
A tuition-free, public charter high school with a 10-year track record of 100% college acceptance for graduating seniors has outgrown its current home, and today announced the public launch of a $25 million capital campaign to build a new, state-of the-art high school in Milwaukee's reinvigorated Bronzeville neighborhood and pave the way for a proposed new feeder middle school.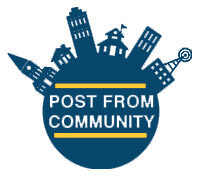 The Dr. Howard Fuller Collegiate Academy (HFCA) announced it already has raised $16 million through its Commit to the Future capital campaign and expects construction of the $20 million new high school on Vel Phillips Avenue, just south of North Avenue, to be completed in time for the 2023-2024 school year. HFCA is raising another $5 million in support of a proposal to renovate the existing high school at 4030 N. 29th St. for a new middle school. A middle school would require approval from the Wisconsin Department of Public Instruction and the City of Milwaukee, which approved HFCA's charter for the high school.
The new building will allow high school enrollment to grow from 325 students to 500 students. The proposed feeder middle school would enroll approximately 325 students.
"A new middle school would enable HCFA staff to reach students earlier and remediate proficiency deficits in the sixth grade instead of the ninth grade," said Dr. Howard Fuller, distinguished professor emeritus at Marquette University and former superintendent of Milwaukee Public Schools. "The goal is for students to be better prepared for higher level courses and dual enrollment in college. Expanding STEM education, including business, technology, and health care career preparation, will help achieve the high school's vision."
The new high school also will add a gymnasium and auditorium for scholars to participate in athletics, fine arts and other activities.
The capital campaign represents the pinnacle of longtime education reformer Howard Fuller's legacy in Milwaukee, and the progress that has been made since the former Milwaukee Public Schools superintendent and a group of Black clergymen founded the Dr. Howard Fuller Collegiate Academy in 2004, based on the belief all children can be educated in a loving, caring environment that isn't "just" a school. The school is open to all students in the city of Milwaukee. Its new Bronzeville location is in a neighborhood that is reemerging as the heart of Black culture and business in Milwaukee.
The mission of the Black governed and Black led school is to nurture scholars capable of transforming their world by sending them to and through college. Milwaukee has one of the nation's largest achievement gaps between Black and white students and HFCA is focused on changing that reality.
"What principal Judith Parker and the rest of the staff at HFCA have accomplished through vision, dedication and determination is powerful," said Cory Nettles, co-chair of the Commit to the Future capital campaign, and Founder and Managing Director of Generation Growth Capital, Inc. "They are guiding Black scholars to 100% college acceptance, preparing scholars to succeed in college or another career path, and nurturing alumni to be the next generation of HFCA teachers and leaders. But most importantly, they are preparing their students to become socially and economically productive citizens."
Along with Nettles, other capital campaign co-chairs include Patty Cadorin, retired BMO Harris executive, and Thelma Sias, retired WE Energies executive.
Visit howardfullerca.org/commit to donate or learn more about the Commit to the Future capital campaign.