Editor's note: Posts from the Community is the place for community announcements and event postings. If you have a community-oriented event you feel our readers would be interested in, please submit here.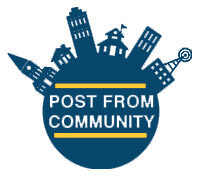 Northwest Side Community Development Corporation (NWSCDC) is hosting a free family-friendly event outside at Milwaukee Metropolitan Sewerage District's West Basin (4350 N. 35th St, former Bee Bus Line site) on Saturday, July 23 from 11 a.m. – 2 p.m. to engage residents about the stormwater basin and green space project currently being designed at the site.
We'll be enjoying summertime in Milwaukee by hosting a cookout with free food, a DJ, kids' games, arts and crafts, giveaways, prizes, and more. Parking is available on site.
Event features include:
free hamburgers, hot dogs, and veggie burgers
soccer
bag toss & giant jenga
potato sack races
suncatcher painting & coloring
sidewalk chalk & bubbles
raffle prizes
DJ & dancing
snacks
All are welcome – don't miss out!
The rain date will be 7/30.
Questions or comments can be directed to Sarah Bregant at NWSCDC – 414-444-8200 x.8104 or sarah.b@nwscdc.org