Editor's note: Posts from the Community is the place for community announcements and event postings. If you have a community-oriented event you feel our readers would be interested in, please submit here.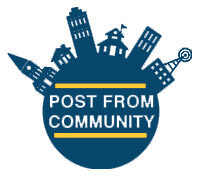 Thursday, August 18, 2022
4:30 PM – 5:30 P.M.
Urban Ecology Center Menomonee Valley

Roberto Harrison is the author of six poetry collections, most recently YAVIZA (Atelos, 2017) and BRIDGE OF THE WORLD (Litmus Press, 2017). His other books include Culebra (Green Lantern Press, 2016), Bicycle (Noemi Press, 2015), Counter Daemons (Litmus Press, 2006), and OS (Subpress, 2006). He serves as the 2017-2019 Milwaukee Poet Laureate and lives in Milwaukee, Wisconsin with his wife; the poet Brenda Cárdenas. 
Frenia is a fluid collective of artists and musicians based in Milwaukee, Wisconsin. Frenia was founded by Ryan Winslow Jann and Paul Rabe in 2016 and is now joined by Pedro M. Gutierrez. Today they are this, tomorrow they are that. Discovery fuels Frenia's creations, forming a live experience that is seemingly chaotic, phasing in and out of harmonious noise.
The Out There Series is an ongoing opportunity for Milwaukee-area poets and experimental musicians to share their unique experiences of sound. The series is meant to reflect interconnections between Milwaukee's environmental and artistic ecosystems, fostering deep listening in unexpected places.
For any additional questions about this program, please contact Menomonee Valley Branch Manager, Angélica Sánchez Mora at asanchez@urbanecologycenter.org.
There is no charge for this event. Registration is NOT required.