Editor's note: Posts from the Community is the place for community announcements and event postings. If you have a community-oriented event you feel our readers would be interested in, please submit here.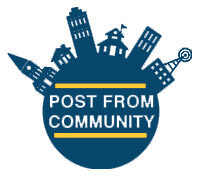 Sherman Phoenix Marketplace, formerly known as the Sherman Phoenix, has updated its identity and announced upgrades and additions that reflect its purpose both as a hub to support local small business owners and as a center of commerce and community gathering space where visitors can shop, eat and drink, receive services and gather together.
"The addition of 'Marketplace' in our name breathes clarity into the expanding vision of the Sherman Phoenix, even as the legacy we have built continues," said JoAnne Johnson-Sabir, co-developer of Sherman Phoenix Marketplace. "This is a place for all who live, work and serve in community, and our engagement with our neighbors continues to grow and be re-imagined. The updated identity of the marketplace will ensure neighbors, visitors and those who are being newly introduced to us know that we are a place they can come to shop, eat, and receive the various services offered by the businesses inside as well as attend events that are hosted here. This truly is a marketplace of love, communion, hope and opportunity."
Voting open on new logo
This expanding identity will be reflected in updated branding, and members of the community are invited to vote on their preferred option. Voting will be open online starting August 23, and will close on August 31. Community members are also invited to vote in-person; those who do so will be entered to win prizes including a $50, $75, and $100 gift card to their favorite Sherman Phoenix Marketplace business. The winning logo will be announced via Facebook Live on September 4 during the Front Porch Music Series taking place at the Sherman Phoenix Marketplace from 3:00 to 6:00 p.m.
Upgrades bolster updated identity
True to its identity as a center of local commerce, the Sherman Phoenix Marketplace has upgraded its operations and facilities to better serve the community members, shoppers and business owners who visit the space.
These upgrades have included the addition of an ATM that will not charge fees for BMO Harris Bank customers, website updates to provide real-time information about upcoming events and current tenants open for business, and expanded hours. The Sherman Phoenix Marketplace, starting August 16, will be open from 11AM – 7PM Tuesdays through Fridays, 10AM – 7PM on Saturdays, and will be closed on Sundays and Mondays. Previously, the Sherman Phoenix Marketplace closed at 6:00 PM.
"Im very excited to see the Sherman Phoenix continue to rise and evolve with these updates, including a name that fits our purpose. The Sherman Phoenix Marketplace is just that – a place where entrepreneurs are able to sell our goods and services to our customers and be a hub for innovation and inspiration," said TrueMan McGee, Funky Fresh Spring Rolls owner and Sherman Phoenix Marketplace tenant. "I'm looking forward to more growth, and the expansion of our hours into the evening will allow more people to visit after they get off work."
Marketplace welcomes new businesses as tenants
The Sherman Phoenix Marketplace is still rising – and welcoming new businesses for the community to discover. The most recent additions include:
Allen & Associates Inc., American Family Insurance Agency:

License insurance agent Melissa Allen provides business and personal insurance coverage.

Bloom Art Therapy:

Using art media, the creative process and artwork, participants explore their feelings, reconcile emotional conflicts, foster self-awareness, manage behavior and addictions, develop social skills, reduce anxiety and increase self esteem.

CTRL C:

A community-oriented copy/print service company that aims to give a professional voice and presence to trend-setting business leaders and companies.

Happy Days Day Bar:

Coming soon, Happy Days Day Bar will be a place where entrepreneurs, white- and blue-collar workers, artists and "adult-minded" cousins can put a little "happy" in their day! Creative energy, good vibes, stellar customer service and GREAT cocktails set the prime environment.

Juniors Smoked BBQ and Veggie Soul:

A restaurant offering smoked meats and vegan options known for its homemade, custom barbeque sauces.

Milwaukee Tattoo Society:

At Milwaukee Tattoo Society, one of Milwaukee's premier tattoo artists, Rahdahshay Dortch, brings 10 years of experience in neo-traditional tattoos and teeth gems to the Sherman Phoenix Marketplace.

Rise & Grind Cafe:

Specializing in coffee, tea and smoothies, Rise & Grind is cooking up breakfast and lunch favorites.

Kujichagulia Producers Cooperative:

A collective of offering retail products from 32 entrepreneurs who walk and live the definition of Kujichagulia – defining ourselves, speaking for ourselves, and creating for ourselves.

The Underground Makers Market:

A collection of four Black women-owned businesses – the Classic Shoppe, At Peace Designs, Butterscotch Baby and J. Riley.

Valencia Lynn Beauty Bar:

A salon providing nail care services including pedicures, press-on nail services, nail care and beauty products.

Who's Cooking:

The Who's Cooking Counter, a pop-up kitchen run by chefs, was developed by cooks with various food backgrounds who keep great at-home and professional chefs in mind and shares the love of food varieties through meal ideas from different people.
A full list of businesses, food and drink vendors, and organizations based at the Sherman Phoenix Marketplace is available online at shermanphoenix.com/shop.
Community programming expands
A sharp focus on community-building remains at the core of the Sherman Phoenix Marketplace through the efforts of the Sherman Phoenix Foundation.
"Nearly four years after this place was transformed into a thriving community center and Black-owned business hub, we are still rising," said Dr. Stacia Thompson, Executive Director of the Sherman Phoenix Foundation. "We invite all members of our community to attend events at the Sherman Phoenix
Marketplace and get engaged by following our social media handles and participating in monthly programming designed with youth, families and entrepreneurs in mind."
On a monthly basis, the Sherman Phoenix Marketplace now hosts the following events:
BlackOut Pop-Up Markets; One Saturday each month, local entrepreneurs showcase and sell their goods and services at the Sherman Phoenix Marketplace between 10:00 a.m. and 6:00 p.m.
Youth Trap Therapy, pairing urban hip hop music with conversations about mental health and emotional wellness, including discussions about coping mechanisms, understanding identity and persevering despite traumatic experiences.
Personal finance and workforce development resources are also available thanks to the support of BMO Harris Bank and Goodwill Industries, who set up and staff tables with information. Banking experts are on-site at the Sherman Phoenix Marketplace on the first Tuesday of each month, from 11:00 a.m to 1:00 p.m. Workforce development specialists are on-site at on the first Wednesday of each month, from 11:00 a.m. to 3:00 p.m.
For information about upcoming events, visit shermanphoenix.com/events.
ABOUT SHERMAN PHOENIX MARKETPLACE
The Sherman Phoenix Marketplace, formerly known as the Sherman Phoenix, was birthed after the police shooting of an unarmed Black man in the Sherman Park neighborhood of Milwaukee in 2016. Our community came together to transform a fire-damaged bank building into a thriving hub for 25+ Black-owned businesses.
Having opened in late 2018, the Sherman Phoenix Marketplace quickly became a model for healing our city by generating positive economic and social returns in communities of color and a vibrant community space that embraces talent and innovation, employs over 100 people, builds community wealth, and inspires new narratives for our future. The Sherman Phoenix Marketplace includes much-needed community spaces to curate art exhibits, film showings, and cultural events. For more information, visit www.shermanphoenix.com.