Editor's note: Posts from the Community is the place for community announcements and event postings. If you have a community-oriented event you feel our readers would be interested in, please submit here.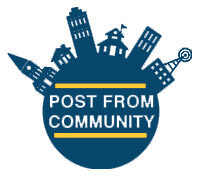 Local non-profit Near West Side Partners is happy to announce the return of Near West Side Week. NWSP will host a week long celebration of all things Near West Side, various activities include:
Toast to Near West Side Week
Sunday, September 11th 1-3pm
Vliet Street Parklet, 3801 W Vliet Street
Enjoy a relaxing painting session alongside new Near West Side business owner Chrisella Roche of Vibez Creative Studio with refreshments provided by Triciclo Perú. The event will take place on the newly installed Vliet Street Parklet, allowing participants to enjoy the atmosphere of the developing Vliet Street Corridor. Registration is required, and the class size is limited to 25 participants.
Near West Side Week Kick-Off
Monday, September 12th 12-1pm
The New State Music Park, 2627 W Wells St, Milwaukee, WI 53233
Join us for the Near West Side Week kick-off event at The New State Music Park. Hear remarks from Near West Side Partners Executive Director Keith Stanley about our second annual celebration of the Near West Side and from The New State Music Park's redevelopment team, who will share updates on the exciting project.
Stick around for a ribbon-cutting ceremony celebrating the unveiling of The New State Music Park, live music and a host of food truck options! Attendees will receive free Near West Side Week t-shirts.
27th Street Transformation Tour
Tuesday, September 13th 5-7pm
Daddy's Soul Food & Grille, 754 N 27th St.
Over the past several years, the 27th Street corridor has undergone many changes to become a thriving business corridor. Near West Side Partners would like to invite you on a behind-the-scenes tour of the new developments on this historic corridor.
The tour will include a sneak peek at the newest addition to 27th Street, Concordia 27, a community center and affordable housing development that will support the wellness of the Near West Side. Join Keith as he walks residents through the soon-to-be community resource hub and gain a glimpse at the future of the Near West Side.
Near West Side Sound the Alarm
Tuesday, September 13th 3:30-6pm
Harley-Davidson Campus, 3700 W Juneau Ave
Join us at the Harley-Davidson Campus, where American Red Cross volunteers will hand out free smoke detectors to residents. Volunteers will also be providing life-saving education for incidents in Near West Side households. Registration is required beforehand for a smoke detector. Registration is available on the NWSP website.
Rev-Up MKE Live Pitch Event
Wednesday, September 14th 5-8pm
The Rave/Eagles Club, 2401 W Wisconsin
Join Near West Side Partners for the culmination of Rev-Up MKE 2022. Rev-Up MKE is an opportunity for local entrepreneurs to expand or start their business in the Near West Side. Attendees will be able to hear from the finalists as they pitch their business opportunity to the live audience and will be able to vote for their choice for the audience choice winner. After the Live Pitch event, attendees will also be treated to a Taste of the Near West Side, a sampling of favorite restaurants in the Near West Side.
Food Truck Rally
Thursday, September 15th 11:30-1pm
Highland Park
Take a break from work and enjoy an open air lunch with other Near West Side residents! Visit Highland park and enjoy lunch from various local food trucks.
Near West Side Housing Resource Fair
Thursday, September 15th 5-7pm
Milwaukee Academy of Science, 2000 W Kilbourn Ave
Make connections and learn everything you need to know about purchasing a home and the resources available in the Near West Side during this housing resource fair.
Near West Side Movie Night: Encanto
Friday, September 16th 5:30-9:30
Merrill Park 461 N 35th Street
Join your Near West Side community for a movie night under the stars! Arrive early to play, put down a blanket and enjoy snacks while you watch Encanto. Everyone is encouraged to sing along!
Near West Side Scavenger Hunt
Friday, September 16th – Saturday, September 17th
GooseChase App
Play on your own as a team of one or recruit more team members, complete missions, earn points, make memories, and follow your progress on the leaderboard! Grand prize includes a complete NWS Experience and cash prize; gift cards for second and third prize winners.
More information on how to join the game is available on the NWSP website.
Near West Side Stroll and Roll
Saturday, September 17th 10am-12pm
Merrill Park, 435 N 35th St
Join Near West Side Partners for a stroll and roll through the neighborhood. Bike or walk to the Hank Aaron Trail with NWSP and enjoy the scenic environment along the way. Snacks and refreshments will be available at the finish!
Near West Side Action Activities Tour
Saturday, September 17th 1-2:30pm
Ambassador Hotel, 2308 W Wisconsin Ave
A lot has changed in the Near West Side since NWSP was awarded the Choice Neighborhood Initiative (CNI) Grant in 2018, which enabled the implementation of six Action Activities to improve and beautify the Near West Side. Join us as we give residents a bus tour of the new murals, neighborhood markers, storefronts, and more as part of the CNI Action Activities.
Learn more about Action Activities at nearwestsidemke.org/cni/
To register for the tour use the link here.