Editor's note: Posts from the Community is the place for community announcements and event postings. If you have a community-oriented event you feel our readers would be interested in, please submit here.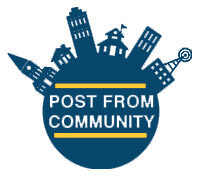 Global venture firm and startup accelerator, gener8tor, announces the six visual artists selected for its 2022 gener8tor Art Fellowship. The talented recipients of this year's accelerator include SPOOKY BOOBS (Madison, Wis.); Israel Campos (Los Angeles, Calif.); Marlos E'van (Nashville, Tenn.); Kate Klingbeil (Milwaukee, Wis.); Shanna Merola (Detroit, Mich.); and Moody Zine (Milwaukee, Wis.). Full artists profiles are provided below along with a press packet providing details about each of the artists and their work.
In partnership with the American Family Insurance Institute for Corporate and Social Impact, each artist receives a $15,000 grant and participates in the gener8tor Art 12-week accelerator program. With a focus on supporting artists who have a social activism component to their art practice, including themes of social justice, activism, creative placemaking and community development, the program provides artists the support and mentorship to maintain a sustainable practice and navigate the industry.
"We believe artists are inherently storytellers that help amplify the voices of individuals and communities," said Nyra Jordan, social impact investment director at the American Family Insurance Institute for Corporate and Social Impact. "This is why we support the programming of gener8tor Art. Congratulations to these six finalists."
gener8tor expanded this year's program from four to six artists, welcoming three artists beyond Wisconsin and folding in a new element of artists' perspectives, cultures and experiences from across different parts of the country. Throughout the program, artists meet with gener8tor mentors and industry experts through hybrid engagements both virtually and in person. At the end of the program, the fellowship along with mentors, sponsors and the gener8tor team will convene on November 11 at Var Gallery in Milwaukee for a celebratory showcase in honor of the artists – the first in-person gener8tor Art event since 2018.
"I'm excited to work with and support such a talented group of artists," said Maureen Ragalie, director of gener8tor Art. "By focusing on creating a sustainable business structure for their creative practices, these artists are in a better place financially and creatively to share their art work with the rest of the world."
The artists were selected from a pool of more than 200 applicants after multiple rounds of application reviews and virtual studio visits. They were chosen based on a jury's gauge of the artist's talent, the compelling nature of their bodies of work, their strong career goals, their ability to be significantly impacted by the program and the social impact of their work.
Representing a cross section of art industry professionals, including curators, gallerists, artists and academics, gener8tor Art's 2022 jurors included Daniela Holban, co-founder and curator at Artfare (New York, N.Y.); Laura Zorch McDermot, executive director at Laramie Public Art Coalition (Laramie, Wyo.); Andrew Rafacz, director, Andrew Rafacz Gallery (Chicago, Ill.); Mark Rospenda, curator, South Bend Museum of Art (South Bend, Ind.); and Carolina Wheat, director, Elijah Wheat Showroom (Newburgh, N.Y.).
Graduates of the gener8tor Art Accelerator have continued to excel in their work, expanding their impact and scaling their businesses. Many alumni from the program see at least a 20 percent increase in income from their art practice over a two year period. Alumni also experience an increase in the number of exhibitions that they participate in, such as Phoenix Brown, 2021 gener8tor Art alum. Since completing the accelerator, Phoenix has been invited to exhibit her work at The Wright Museum of Art, The Green Gallery, The Trout Museum of Art and The Blue Room Gallery.
Learn more about the 2022 gener8tor Art Accelerator artists below. For additional information about the program, visit gener8tor Art or follow the program updates on Instagram at @gener8torart.
---
gener8tor Art 2022 Artist Profiles
SPOOKY BOOBS visualizes the trivialization of women's experiences through installations, performances, printed material and designed objects. Their work examines the power of misogynistic language and critiques the patriarchal systems that perpetuate disrespect toward women.
Israel Campos is an interdisciplinary artist who explores the rich and diverse tapestry of cultures, lifestyles and narratives found in the "City of Angels" through paintings, prints, photography and artist books. The contradictions woven into the city are explored through the lens of an Angelino who was raised and lives in a neighborhood that is heavily industrial and predominantly working class.
Marlos E'van's work is a statement of the harsh, often self-contradictory ideologies on which
America is built. By using found materials, obsessive mark making, text and hyperbole, he explores how dystopian landscapes speak to long-standing American social problems.
Kate Klingbeil's work explores the intrinsic and evolving relationship between humans and nature by presenting an emotional realm overlapping and mirroring the natural world. Made up of many small parts that form an anthropomorphic ecosystem, the paintings consist of thick acrylic paint, lake rocks, ceramic shards, sticks and sand, and other materials.
Shanna Merola is a visual artist, photojournalist and legal worker. Her sculptural photo collages are informed by the stories of environmental justice struggles past and present. Traveling to EPA designated Superfund sites, she has documented the slow violence of deregulation – from her own neighborhood on the Eastside of Detroit to Chicago's Altgeld Gardens and Love Canal, N.Y.
Moody Zine is a bi-monthly handmade zine publication made up of artist contributions with an emphasis on queer and BIPOC creatives. Featured artists share not only images of work, but stories, poems, notes on their creative process, QR codes to online content, and whatever else has been on their minds. Off of the page, Moody spotlights its contributors and collaborates with local organizations via pop-up sales, art festivals and curatorial projects. Whether in print or in person, Moody aims to connect creative peers, amplify diverse voices and put money into the pockets of artists.
---
About gener8tor
gener8tor is a global venture firm and accelerator network that supports startups, founders, workers, employers, artists and musicians across race, place and gender. gener8tor partners with companies, governments, universities and nonprofits to operate programs in more than 41 communities across 22 states and two countries. Fast Company named gener8tor one of the Best Workplaces for Innovators in 2021 and 2022.
About gener8tor Art
gener8tor Art is a 12-week accelerator program for visual artists. gener8tor Art helps artists achieve greater success by providing the support and mentorship needed to maintain a sustainable practice and navigate the industry.
About American Family Insurance Institute for Corporate and Social Impact
American Family Insurance for Corporate and Social Impact is a venture capital firm and partner of choice for exceptional entrepreneurs who are building scalable, sustainable businesses in a long-term effort to close equity gaps in America. The Institute invests in companies working to provide economic opportunity for all, to build resilient communities, to create healthy youth development and to increase learning and academic achievement. It is based in Madison, Wisconsin and can be found on social media @AmFamInstitute or on the institute's website.