Editor's note: Posts from the Community is the place for community announcements and event postings. If you have a community-oriented event you feel our readers would be interested in, please submit here.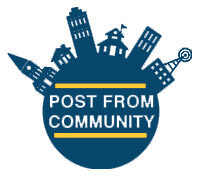 Northside Milwaukee Community Breakfast and Archives Event
Bring your family photos and saved documents for free scanning
Learn about best practices in personal and family archiving
Be part of the Northside / Greater Metcalfe Park Area Community Archive
Saturday, October 22nd
9:30 a.m. to 2 p.m.
Wisconsin Black Historical Society/Museum
2620 West Center Street, Milwaukee, WI 53206
Free Hot Brunch Buffet!
Learn how to create your own family archive and contribute to the Northside Milwaukee Community Archive! Milwaukee Community Archive Day will feature a free and delicious hot brunch buffet and assistance scanning, digitizing, organizing and preserving your personal and family collections (photographs, letters, and keepsakes) so that you might begin your own private archive. We will help you to digitize up to 20 individual items on site (arrangements can be made for additional scanning after the event) and will have professional archivists available to answer your questions for the duration of the event.
Guided by community input and created for community members, we are working to build a collection for Northside Milwaukee and Metcalfe Park. The stories collected at this event will focus on lost spaces where families once had homes, businesses or important memories, with the hope that the collection will continue to grow and preserve community history over generations. The collection is built on voluntary contributions and will remain in the community under the care of the Wisconsin Black Historical Society/Museum.
If you are interested in sharing your history with the community archive, you will have the option to contribute copies of your selected materials to the collection. You will also have the opportunity to share your stories and memories with us through recorded oral history interviews and a guided group discussion. But there is no requirement to contribute to the larger collection. You are free to use the day for personal or family purposes.
Whether you are just curious about archiving, want to start your own family or personal archive, or are interested in contributing to the preservation of Northside Milwaukee's history, we hope you will join us on October 22nd at the Wisconsin Black Historical Society!
Admission is free, and includes hot brunch, so be sure to RSVP at: https://www.whoseland.org/rsvp to reserve yourself a plate!
The event is co-sponsored by Metcalfe Park Community Bridges, the Wisconsin Black Historical Society, the Whose Land? Project, the University of Wisconsin-Milwaukee, and Wisconsin Humanities.
For more information about the co-sponsors, see:
Wisconsin Black Historical Society/Museum: http://www.wbhsm.org
Metcalfe Park Community Bridges: https://metcalfeparkbridges.org
Whose Land Project: https://www.whoseland.org
Contact:
James Levy
Director, The Whose Land? Project
levyj@uww.edu