Editor's note: Posts from the Community is the place for community announcements and event postings. If you have a community-oriented event you feel our readers would be interested in, please submit here.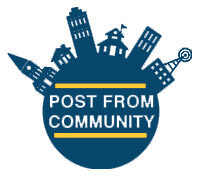 Residents are being asked to share their love for Milwaukee by sharing their input on how they think the remaining $92.7 million in federal American Rescue Plan Act (ARPA) funding should be spent – during three upcoming public input meetings in February.
Alderwoman Milele A. Coggs, chair of the city's ARPA Funding Allocation Task Force, said residents should attend one or more of the following public input meetings:
• Saturday, February 4 from 10 a.m.-noon- Riverworks, 526 E. Concordia Ave. RSVP on Facebook
• Saturday, February 11 from 10 a.m.-noon- Mitchell Street Library, 906 W. Historic Mitchell St. Bilingual Spanish Session RSVP on Facebook
• Wednesday, February 22 from 5:30-7:30 p.m.- Register for virtual meeting
Alderwoman Coggs said members of the public are invited to provide testimony on what they would like to see ARPA funds used for to solve issues and improve their neighborhoods, and noted that testimony may be limited in duration at the discretion of the task force.
Additionally, members of the public are invited to also provide input via an online survey as follows:
"This once-in-a-generation funding has included money for unemployment assistance, child care help, small businesses, health care and more — especially for those communities hardest hit by the crisis that was brought on by the (COVID-19) pandemic," the alderwoman said. "These input meetings will provide a prime opportunity for residents to provide ideas and priorities for how the city should spend this important remaining tranche for ARPA funding."
A quorum of ARPA Funding Allocation Task Force members may or may not be present. In the event of no quorum, no action other than information gathering will be taken.
Reasonable accommodations provided for persons with disabilities upon request. Call 414-286-3475 or email ADACoordinator@milwaukee.gov.
Visit milwaukee.gov/LoveMyMKE for additional details and to download digital Valentines, flyers, and more.