Editor's note: Posts from the Community is the place for community announcements and event postings. If you have a community-oriented event you feel our readers would be interested in, please submit here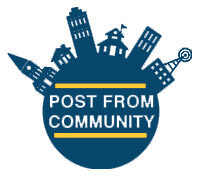 In 2019, Milwaukee made national headlines when it became the first U.S. city to call systemic racism a public health crisis. Four years later, what progress has been made and what solutions are being actively developed?
This is the focus of the second season of Radio Milwaukee's award-winning podcast, "By Every Measure." The podcast released the first episode of season two on "Black Brain Drain" today, the station announced.
"By Every Measure" is co-hosted by award-winning data expert and journalist Reggie Jackson and HYFIN Program Director Tarik Moody. The second season will also feature an abundance of interviews with current and former Milwaukeeans, along with ongoing contributions from HYFIN Production Manager Kim Shine. Nate Imig, Director of Digital Content, serves as the podcast's Executive Producer.
The podcast will cover the following topics:
Episodes 1 & 2: Black Brain Drain, Part 1 [Out Now] & Part 2 [Coming February 28] with interviews from nationally-touring musicians Sista Strings; Cory Joe Biddle, Executive Director of Fuel Milwaukee; Ranell Washington, Vice President of Social X MKE; and musician and poet Emmit James
Episode 3: Black Birth Outcomes [Coming March 7] with interviews from certified nurse midwife LuVerda Martin of Aurora Health Care and Geraud Blanks of Milwaukee Film
Episode 4: Housing  [Coming March 14] with an interview from Kevin Newell of Royal Capital
Episode 5: Critical Race Theory [Coming March 21] with an interview from Anne Bonds of University of Wisconsin – Milwaukee
Episode 6: General Wealth [Coming March 28] with interviews from Greg Wesley of the Medical College of Wisconsin and Ken Robertson of the Greater Milwaukee Foundation
In addition to the audio, Radio Milwaukee will host a discussion group on its Facebook page (facebook.com/RadioMilwaukee). The group will consist of daily conversation prompts on the episode's topic and a weekly virtual meeting to discuss responses and navigate the community conversations collectively.
The first episode of By Every Measure, Season Two is available now on all major podcast streaming services and at radiomilwaukee.org/measure. New episodes will be released each Tuesday through March 28. All episodes will also be released in conjunction with the NPR Podcast Network.
By Every Measure is supported by The Argosy Foundation.
Media can download photos of podcast hosts and additional supplementary materials at https://bit.ly/BEMS2PressFolder.
For more information or interview requests, please contact Sarah Lahr at sarahm@radiomilwaukee.org or 815-260-7218.
About Radio Milwaukee
Radio Milwaukee (WYMS-88.9FM) has been a positive force for Milwaukee on air, online and in the community since its 2007 launch. Through its creative programming and content, non-commercial Radio Milwaukee utilizes a multimedia platform for creating a better, more inclusive and engaged community. 88Nine broadcasts and streams a unique blend of musical styles, including at least one song by a Milwaukee artist each hour, and short Uniquely Milwaukee stories that foster engagement and positive change. On 88.9FM-HD2 and hyfin.org, the station operates an Urban Alternative channel, HYFIN, that focuses on connecting with young, diverse audiences through the full spectrum of Black music. The organization runs a 24/7 all-Milwaukee music channel at 414Music.fm online and 88.9FM-HD3 on-air. The award-winning station receives the great majority of its financial support from its 6,000 contributing members, more than 150 underwriters and 25 foundations. Learn more about Radio Milwaukee and stream the station at RadioMilwaukee.org or via the Radio Milwaukee mobile app.
About Reggie Jackson
Reggie Jackson is a research journalist, data expert, educator and business owner. As a journalist, he has written dozens of data-driven articles for the publication Milwaukee Independent. Jackson has also served as a race relations expert for CNN, Wisconsin Public Radio, NPR, Reuters News Service, the BBC and several statewide news channels. Reggie also co-owns Nurturing Diversity Partners, a company that works with businesses on equity training; and serves at the head griot for America's Black Holocaust Museum, founded in Milwaukee.