Editor's note: Posts from the Community is the place for community announcements and event postings. If you have a community-oriented event you feel our readers would be interested in, please submit here.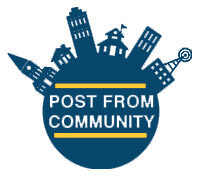 BlackSpaceMKE is an urban art cooperative with a basic principle of spreading the message about cooperative economics. In an effort to raise awareness about social entrepreneurship and garner support of Black owned businesses, BlankSpaceMKE has established Milwaukee Black Restaurant Week. The week will take place Tuesday, April 25, 2023 through Sunday, April 30, 2023.
For the past 8 years BlankSpaceMke (founded by Black women Bridget Whitaker & Symphony Zawadi) have launched a week dedicated to celebrating the entrepreneurship of our locally Black owned restaurants and want to direct patrons to support those eateries. We have done this at no cost to the restaurant owner! This is a grassroots effort to engage Milwaukee in helping create practical strategies around building wealth in our community. The goal is to increase social entrepreneurship and support the sustainability of local businesses – specifically Black owned businesses.
This year, there are over a dozen Black owned restaurants who have signed up to participate and featured in this cooperative economics project. Black restaurant owners who are excited about being highlighted for their creative food art and who desire to welcome new customers across the city to celebrate the culture.
Black Restaurant Week is not a new project. Cities across the country often host an annual restaurant or dining week during which they offer deals or menu specials to bring in new customers. BlankSpaceMKE hosts have decided to bring the same movement to the city of Milwaukee. In this project, we hope to direct attention to thriving restaurants that could benefit from the exposure and marketing.
To kick off the week of good eats – families and stakeholders are invited to The Sherman Phoenix located at 3536 West Fond du Lac Avenue on Tuesday, April 25th between 3pm – 7pm to patronize the Black own restaurants within this marketplace as a way to celebrate the 8th year of Milwaukee Black Restaurant Week and to learn more about how to further support the project.
Over the past eight years, participating restaurants realized a significant sales increase (some almost doubling in daily sales amidst a very uncertain and challenging time for small business owners). The surge in media attention and the boost of new customers that placed orders for dine-in, curbside and delivery helped tremendously keep the doors open of many restaurants listed in our lineup today.
How does the week work?
We have researched local Black owned restaurants and asked them to allow us to include them in the project. With their permission, we use data collection from the week to demonstrate the effectiveness of cooperative economics and the significance of the local dollar to sustain businesses.
We then ask residents of Milwaukee and surrounding communities to visit one or more restaurants on the list. Patronize! Spend money! Eat good food! And document your attendance by "checking in" on social media using the hashtag #MkeBRW23 and taking a photo of your receipt. We also ask that customers will share their experience using the power of social media to help raise awareness about these businesses. We track all of this data for our final community report.
*It is important to note that this year's lineup is a reflection of those business owners that signed up to participate as a featured Black owned restaurant for the week. We acknowledge that there are dozens of other Black owned restaurants that were unable to participate at this time.
BlankSpaceMKE is an urban art cooperative aimed at empowering the community to work together to strengthen values of entrepreneurship by way of fundamental cooperative economics. We believe that a community motivated to invest in themselves while embracing models of shared collective consciousness can build relationships that will sustain business and improve socio economic conditions. At the intersection of art and activism – BlankSpaceMke has curated projects to illustrate the power of artists working together to build community.
For more information about BlankSpaceMKE's Black Restaurant Week including a lineup of restaurants visit us at https://blankspacemke.weebly.com/ or contact us at blankspacemke@gmail.com.