Editor's note: Posts from the Community is the place for community announcements and event postings. If you have a community-oriented event you feel our readers would be interested in, please submit here.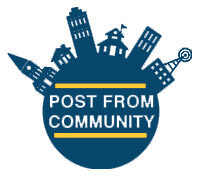 A local nonprofit, Groundwork Milwaukee, is celebrating community gardening from April 22nd-29th, 2023 with Garden Week 2023. The Milwaukee Grows Garden Network (MGGN), a constellation of more than 80 active community gardens across the city, will get a boost from dozens of volunteers as they tend to several of the network's most active gardens. They'll be building new beds, setting up water harvesting structures, and prepping the soil for use in the coming growing season.  
Last year, the MGGN mobilized 3230 community members to serve as civic stewards to maintain 10.2 acres of green open space or park land in the city of Milwaukee. Each of these gardens was started and maintained by ambitious residents with a desire to activate unused space in their neighborhoods. Most of the gardens are just that, gardens, with fresh produce growing in raised garden beds while others serve as Healing Spaces, recreational greenspace while still others function as full-scale farms. Groundwork collaborates with gardeners to provide legal and safe access to city-owned vacant space, materials and labor for garden builds and maintenance, and planning and training of health-based educational and recreational programming in the gardens.
Groundwork crews will start the party with Milwaukee River Keepers by joining the 28th annual river clean up on April 22nd, and then send teams of volunteers out to help the neighbors in Community Gardens across the city. They'll be building and maintaining ten greenspaces including their own showpiece, Kilbourn Community Gardens.
Spotlight: Garden Week 2023
4.15 & 14.14 Kilbourn Gardens, a 161 bed community garden situated on North Avenue
April 22, 10 a.m. -2 p.m., Riverkeeper Cleanup at Havenwoods State Park
April 22 – 28, 1 p.m. -4 p.m., Garden Bed Builds at Marcus Mosiah Garvey Jr Garden, Gingerbread Lane Garden,All People's Garden, Hilltop Farm & Community Garden,Peace Place Park, Solomon Community Temple, Story Garden, Carey's Garden and Hepatha Community Garden 
Groundwork Milwaukee has garden beds available to rent at their Kilbourn Garden location, beginning April 12, 2023. Visit their website at www.groundworkmke.org/ for more information about how to get involved at Kilbourn Park or to find a Groundwork community garden in your neighborhood.
About Groundwork Milwaukee:
Groundwork Milwaukee is a local nonprofit that works to bring about sustained regeneration, improvement, and management of the physical environment by developing community-based partnerships that empower people, businesses and organizations to promote environmental, economic and social well-being. Groundwork Milwaukee achieves this mission through the transformation of brownfields and vacant lots into community gardens, and through the education and training of at-risk youth to become environmental professionals in their communities. 
For more information about Groundwork Milwaukee's programs, visit: http://www.groundworkmke.org/
For more information about Groundwork Milwaukee's current events, please visit our Facebook at: https://www.facebook.com/GroundworkMKE/.
###