Editor's note: Posts from the Community is the place for community announcements and event postings. If you have a community-oriented event you feel our readers would be interested in, please submit here.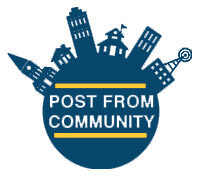 Nativity Jesuit Academy, a K4-8th grade Catholic, Jesuit school on the near southside of Milwaukee, received a $500,000 donation from Anne Kebisek Dudek. This transformational donation is the cornerstone of an endowment that will ensure that all Nativity graduates have the ability to attend the Catholic high school of their choice, regardless of their family's financial abilities. 
This gift was made in loving memory of Kebisek Dudek's late husband, John "JD" Dudek, and in honor of their close friend and co-founder of Nativity, Larry Siewert. While this gift mirrors JD's legacy of hope and persistence, it also amplifies Kebisek Dudek's passion to give back to the Milwaukee community by providing access to exceptional academic pathways.
While at Nativity, 97% of students qualify for a School Choice voucher; the transition into a Catholic high school is their first time leaving a tuition-free experience. When Nativity students look to enroll in area Catholic high schools, they often enter a highly competitive lottery to receive a Choice seat. For some Catholic high schools, the number of accepted students who qualify greatly exceeds the available Choice seats per class. If a student does not receive a Choice seat, Catholic high schools step up to provide incredibly generous financial aid packages, but the remaining balance (typically in the $3,000-$7,000 range) remains a significant barrier to enrollment. Most Nativity students come from the 53215 zip code, which has a median household income of $41,810.
Kebisek Dudek's gift is part of Nativity's initiative to build an endowment, ensuring high school tuition assistance and wraparound support for Nativity graduates in perpetuity. Nativity is currently at $2,054,742 towards its $4 million endowment goal. Kebisek Dudek's generosity bolsters the legacy of financial support that Nativity has provided to its students and graduates since its founding nearly 30 years ago.
"This gift unburdens Nativity graduates and their families of the struggle of meeting the demands for high school tuition as well as day to day living expenses," reflects Kebisek Dudek. "I want Nativity students to be able to fully immerse themselves in the top Catholic high schools in the Milwaukee area without worrying about the financial impact on their family. It reflects J.D.'s life experience that we all rely on the bonds of friendship and love to carry us through life."
With this gift, Nativity students will build upon their education from one of the top-performing K-8 schools in Milwaukee at some of the most academically rigorous schools in the Milwaukee area.
"Anne stepped into Nativity's mission with a rush of intentionality and care, all focused on what is best for our students," Nativity President Vanessa Solis said. "Anne's depth of generosity unlocks doors of opportunity to ensure that Nativity students can continue their journey of Catholic education at the best high schools in our community. We cannot thank Anne enough for creating this legacy of hope for Nativity graduates."
About Nativity Jesuit Academy
Nativity Jesuit Academy is a K4-8 co-ed Catholic, Jesuit, urban school serving young men and women since 1993 on the near southside of Milwaukee. Nativity prepares its students, in partnership with their families, for lives of Christian leadership and service. During the current school year, Nativity serves 258 K4-8th grade students and 99 high school-aged alumni through their graduate support program. 100% of Nativity students identify as Latino and 97% of students qualify for participation in the School Choice voucher program. Through its unique and proven model of education, Nativity strives to be a "mission that does more" to serve students and families on the southside of Milwaukee.