Editor's note: Posts from the Community is the place for community announcements and event postings. If you have a community-oriented event you feel our readers would be interested in, please submit here.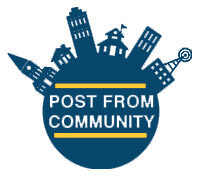 On Thursday, September 1, 6-8:30 p.m., The Community is hosting the 2nd Annual Correcting the Narrative Awards at the Turner Hall Ballroom in downtown Milwaukee. Eight new unrecognized success stories in the system impacted community will be honored, each one having been selected by different organizations. All the performers (Just Becca, Jesse Tyler Frewerd, Bradfacts, Sebastian de la Vega-King, and Brian Green), artwork, caterers (Turning Tables MKE), photography/videography (Kaleigh Jo and ), and the host will be system impacted people. Even the awards and honoree garments are designed and made by system impacted people (Defiant CNC and Annex Apparel & Promotion LLC).
How we tell stories matters, and how we celebrate and define success guides the destiny of countless people. The Correcting the Narrative Awards celebrates and supports unrecognized success stories so that others may feel empowered and motivated by their unrecognized success. And for currently and formerly incarcerated people, this is foundational to rebuilding their lives and strengthening their communities.
Tickets are $50 and can be purchased via their website. You can also donate or purchase raffle tickets if you are unable to attend (the raffle is a signed Giannis jersey, two Milwaukee Bucks tickets behind the hoop, two Green Bay Packers tickets in the third row, two hometown luxury NCMPBRL watches, and two Marquette basketball tickets).
You can find last year's show and honoree booklet on their website, as well.